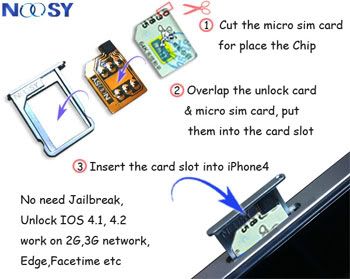 NOOSY unlock micro sim card for iPhone 4 4.1/4.2/4.3 version Web: http://www.noosyapple.com
NOOSY is devote to unlock iPhone 4 firmware iOS 4.1/4.2/4.3 version recently. With a NOOSY unlock card to Unlock iPhone 4 firmware iOS 4.1/4.2/4.3 version will take great convenience to iPhone users. It will set your locked iPhone 4 freely to make a call/send SMS…etc with your own micro sim card. Any questions, please contact NOOSY directly.
Welcome to be our reseller or distributor. Email: sales [at] noosyapple.com
Features:
1. No need Jailbreak,with stable signal
2. Unlock iPhone 4.1,4.2,4.3 versions
3. Compatible with micro sim cards with any carriers in any countries,such as USA,Korea,Japan etc
4. Freely switch 2G to 3G network
5. Work on 3G,Edge,Multi-Message,Facetime etc.
6. Easily plug & play, no any stuck like unlock card for iphone 1G,2G,3G,perfect outlook design.
7. High quality PFC board with low power consume chip
How to find the signal.
1.turn on your mobile
2.Assemble the unlock sim card and micro sim card well,put Them into card slot,then insert the slot into iPhone4
3.Slid to unlock the screen
4.Wait for the dialog pop out,click < confirm >
5.Wait for about 15seconds
6.Dial number 112,hangup in 2 seconds (no need to wait successful connection to 112)
7.Back to the main menu, Open airplane-mode in 5seconds
8.Wait for 30seconds
9.A dialog will pop out,press < ok >
10.Shut off the airplane-mode
11.A dialog will pop out,press < ok >
12.Wait for 20secondes,the sim card signal will appear
13. Ending
Tags: NOOSY, unlock iPhone 4, turbo sim, gevey, unlock micro sim card, NOOSY unlock sim, mr unlocking, gevey sim, unlocking sim, unlock card, turbo sim card, iPhone 4 unlock, iOS 4.2 unlock, iOS 4.3 unlock.